InfoQuest
Thailand's leading media intelligence company and news agency
Contact us about our services, please call us at 02-253-5000 ext. 222
InfoQuest offers media monitoring service covering newspapers, magazines, websites and social media platforms. The service also includes real-time, online news feed from more than 200 sources and access to an archive database dating back more than 15 years.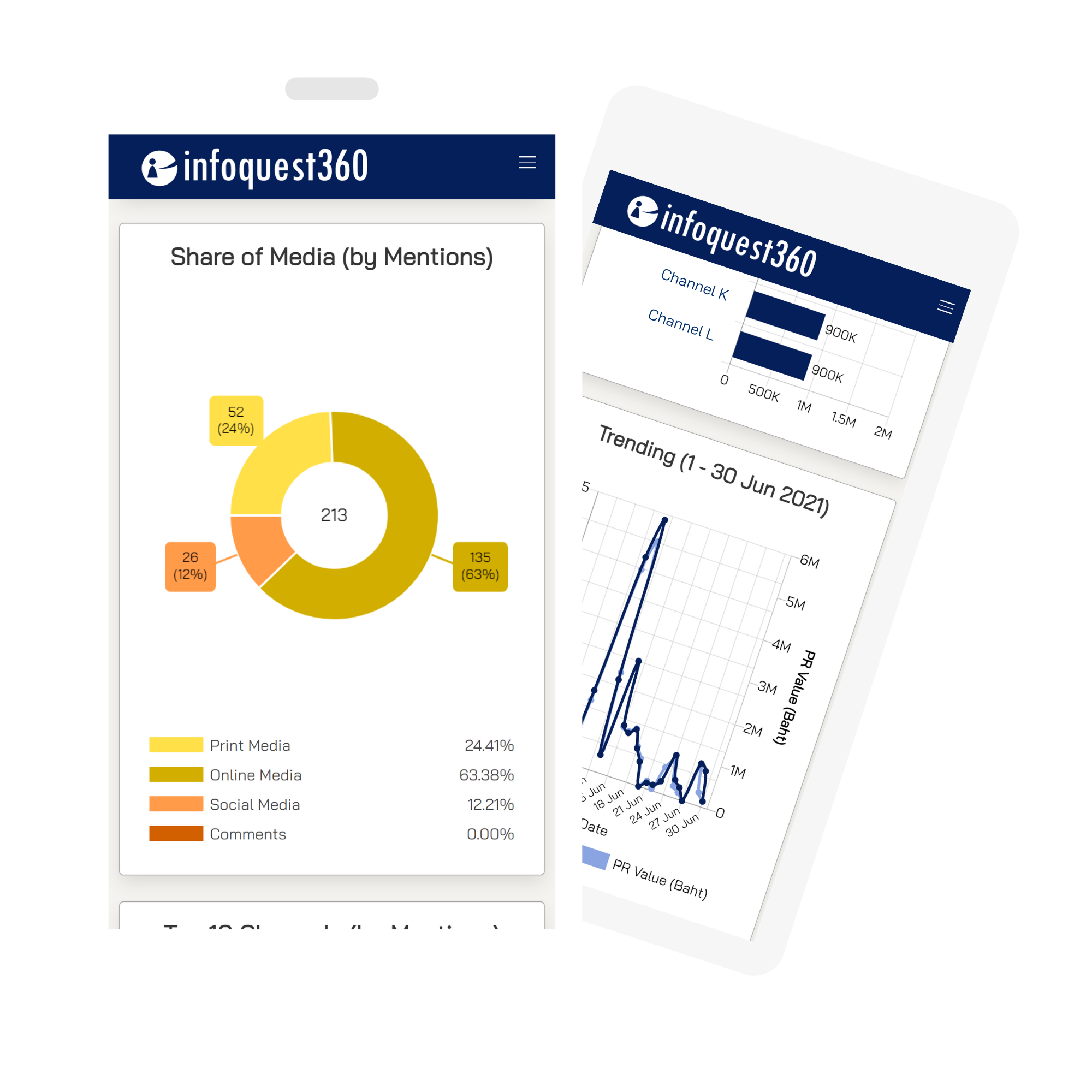 Media Analysis & Insight Report
Monitoring trends and listening to consumers' opinions on brands are very important in the age of digital communication. Whether it is marketing campaigns or company press releases targeting consumer groups, active media analysis is crucial in giving a company the competitive edge.
All Your PR Needs Made Easy!
InfoQuest offers PR services that maximize convenience for every public relations needs. Whether you are a PR agency or a corporate public relations executive, our services will help you effectively communicate with customers and target groups, saving both precious time and costs.

A press release distribution service that disseminates information to more than 5,000 media outlets in both Thailand and many countries around the world.
Create written content and videos for corporate public relations such as news releases, advertorials, featured interviews with executives.
InfoQuest has a network of press – both domestic and foreign. This offers a convenient way for companies to get in touch with various media outlets.
InfoQuest News Agency
Reporting news with impartiality and credibility
InfoQuest produces online, real-time news stories that cover economy, stocks, finance, investments and trending stories around the world
Video clips of interviews of executives from SET-listed companies, trusted economic news sources and special scoops from the InfoQuest news team. 
For more information, visit InfoQuestNews Youtube
InfoQuest can customize local news and/or data package as per client's requirements for further integration, distribution, and display within the client's user group. The real-time news feed service can help with strategic planning and monitoring news in an effective manner.
For more information, call us at 02-253-5000 ext. 224 or email us at marketing@infoquest.co.th.
Free trial!
To learn more about our media monitoring service, media analysis report, and other services, call us at 02-253-5000 ext. 222
Contact us
Media monitoring service