InfoQuest offers tools to help you monitor news across various types of media outlets, including print, online media and social media. You'll never miss news or conversations relevant to your business, your competitors, your industry and your products.
How can our service help your business?
Our media monitoring service helps you to stay up-to-date with the news relevant to your business, with comprehensive coverage of news across various media types including newspapers, magazines, websites and social media.
Staying ahead of the game
Our service helps you monitor your competitor's movements as well as issues relevant to your industry through news and conversations in various types of media.

Our service is available on various platforms including web-based, mobile applications and email alerts.
Our service offers great value for money and helps save time as you don't have to waste time looking for relevant news on different types of media.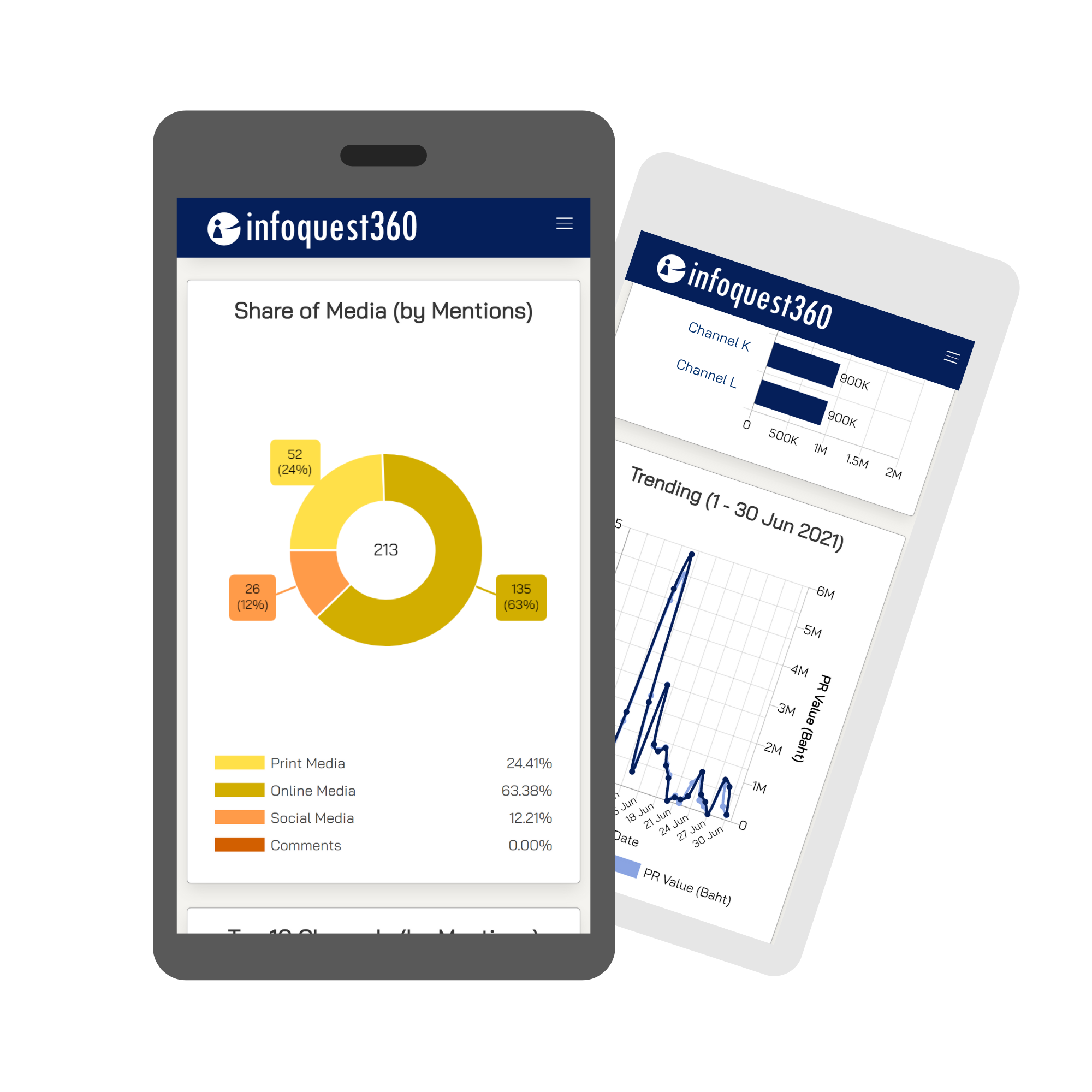 Social Mentions & Multi-channel Monitoring
Our 360-degree monitoring service lets you track your mentions across all types of media, including social media, online media and off-line media and lets you see statistics of the distribution of news about your business and trends on social media. The results can also be presented in charts and graphs that are easy to understand.
Print & Online Media Monitoring 
"iQNewsClip" is our online news clipping service that covers newspapers, online newspapers, magazines, and social media accounts of various publications. The service can be accessed via the Internet, giving users access to news clippings in both high-resolution color and black & white formats. This service is often used as a news clipping tool to help track a company's PR and marketing efforts.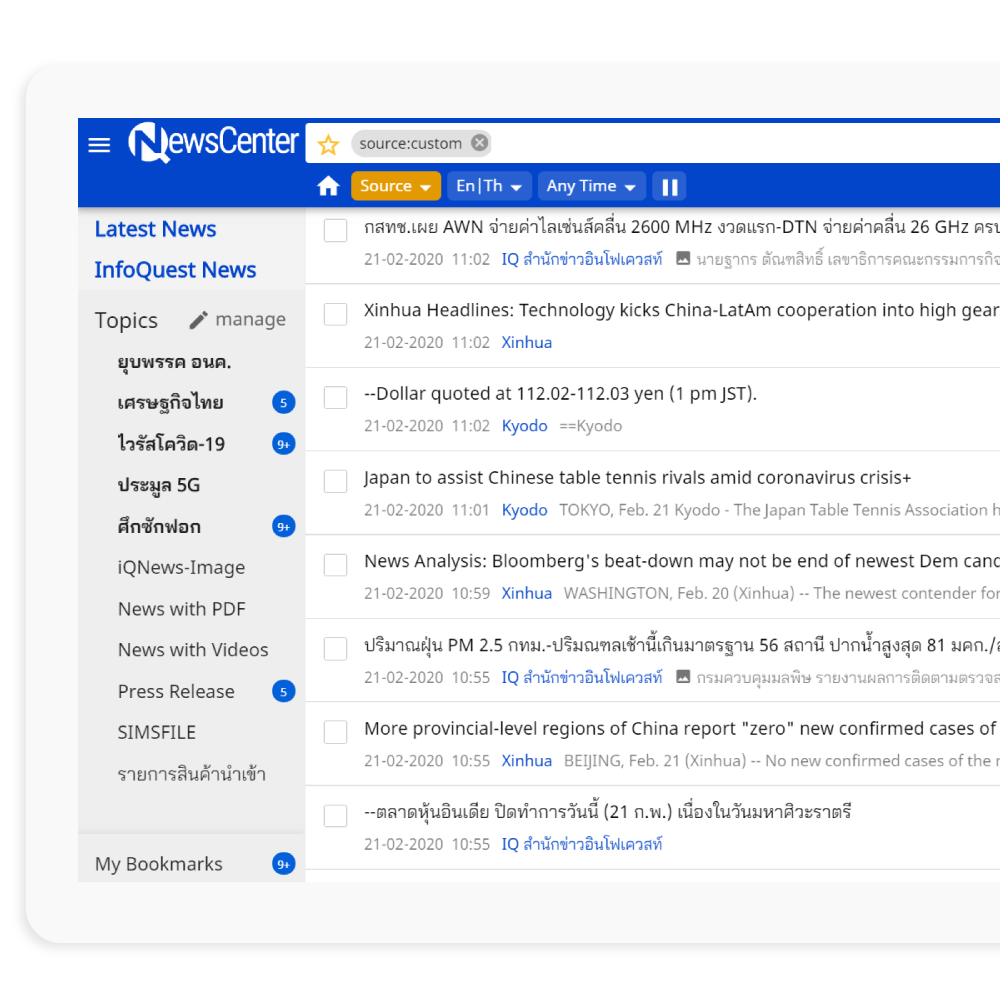 Online Real-time News Database
"NewsCenter" is a real-time online news database service providing comprehensive content from over 200 sources, with coverage going back more than 15 years. NewsCenter is suitable for companies seeking real-time news monitoring and in-depth data for aggregation, analysis, or business planning.
More than 1,000 companies and organizations have trusted our media monitoring services.
"iQNewsClip makes it really convenient to monitor news relevant to our business. All the results are displayed in one single page. Searching for news is fast and streamlined since the content is categorized in an orderly manner."
TMB Bank Public Company Limited
"We have been a long-standing customer of InfoQuest for many years. InfoQuest's services have helped make collecting and compiling information easier, and allow us to easily check news articles and facilitate PR evaluation for each of our campaign and news releases. InfoQuest is like a database that is also available for use, offering great convenience and helping us do our work faster. The InfoQuest team is very friendly and helpful, even when there is an urgent request for news monitoring or a request that falls outside of the scope of work."
Toyota Motor Thailand Company Limited
" iQNewsClip helps make news monitoring and news clipping a lot easier and faster. The service lets us conveniently search for old news through archives. News clipping used to be a tedious and time-consuming task but now it can be done easily from anywhere and any time and requires very little manpower. We also have had good experience dealing with InfoQuest's staff, who helped us look for certain news when we couldn't or helped us track news for a special case. We've been very impressed with the iQNewsClip service."
Loxley Public Company Limited
(Remark: Translated from original Thai testimonials)
Free trial!
To learn more about our media monitoring service, media analysis report, and other services on offer, call us at 02-253-5000 ext. 222
Contact us
Related services