Print & Online Media Monitoring Service
iQNewsClip
An online-news clipping service designed to help improve ease and efficiency. The service covers newspapers, online newspapers, magazines, and social media accounts of various publications. iQNewsClip offers easy access to high-resolution news clips in both PDF and text format, as well as the "Full Text Search" function that can specifically search for articles with ease.
Features of iQNewsClip
Track your news from newspapers, magazines, newspapers' websites and social media accounts of various publications
High-resolution news clips as PDF files
Includes details of news articles for example: newspaper publication/ website link, date, page number, positioning, and PR value
Searchable using full texts, words or phrases, as well as the modifiers "AND", "OR" and "AND NOT" (also known as Boolean Search)
Receive updates on trending daily news right from the menu bar
Updated daily from 5 a.m.
Save favorite user-defined topics
Save articles to read later with the bookmark function
Optimized responsive design for all devices
Translation
Thai-to-English translation service by a team of professional translators and is supervised by a native speaker
News summary
News summary writing service for executives (Thai/English)
News-selection system
A News-selection system designed to provide convenience for companies seeking to curate news clips by customized categories which are stored in a database and can be accessed using the company's intranet.
Customized news clip template
iQNewsclip clip templates will feature customized logo/branding which can be used under your company's name.
iQNewsClip User Guide
Download the latest version of iQNewsClip user guide from the links below. To request a previous version of user guide, please contact your sales representative or customer relations officer at 02-651-4700 ext. 444.
Download user guide (TH)
Download user guide (EN)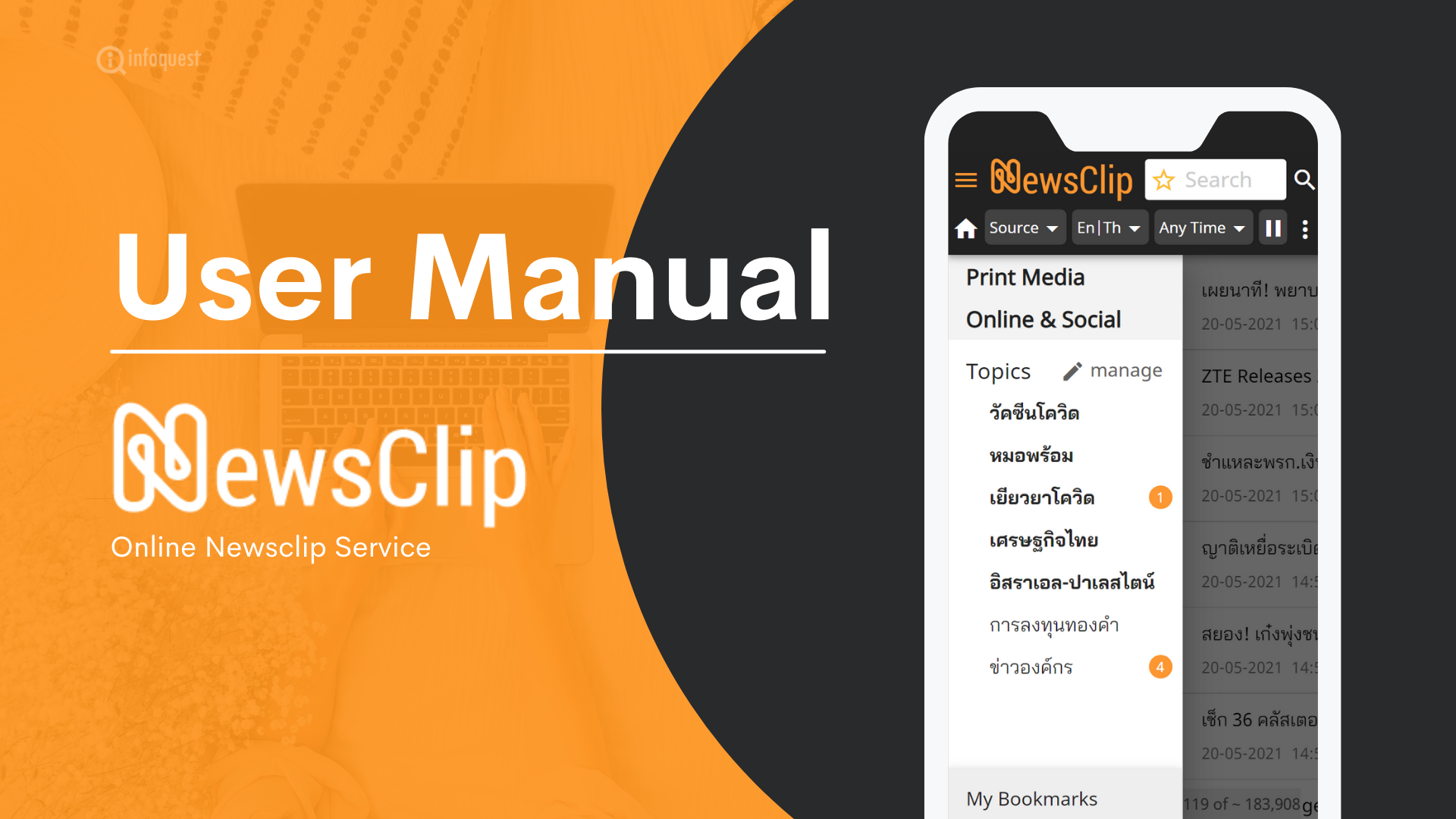 Free trial!
To learn more about our media monitoring service, media analysis report, and other services on offer, call us at 02-253-5000 ext. 222
Contact us
Related services